So, you all know I'm a
really crafty lady
, right? But did you know that I suffer from what psychologists simply deem as "scrapbook anxiety"? It's true! (Okay, I'm not sure if the psychologists part is true, but the part I made up sure is!) I'm not very good at scrapbooking. In fact, when my manager suggested that I become "an expert" for the scrapbook area of the store, I politely declined because I honestly know
nothing
about it. (If you'd have seen the scrapbooks I created in grade school, you would agree with me.) Pretty much, scrapbooks are not my forte, and I had given up on ever understanding them.
Then something unexpected happened. I was contacted recently by Liz from
My Memories
to do a giveaway of their
digital scrapbooking software
. I was hesitant at first, thinking about all the horrors of scrapbook mayhem I had concocted in the past (okay, I may be exaggerating a bit there), but once I played around with it I really started to enjoy it! It makes creating scrapbook pages so much easier because you do it all digitally! I really like that, being a Photoshop aficionado and all :) Plus, I can add my own touch of customization to
any
of the pages! (Even better!) So of course I said yes, and here we are!
Just in case my description of
My Memories
was confusing, here's the gist:
My Memories
is a
digital scrapbooking software
designed for anyone from total newbs to the superstars of scrapbooking! Everything you need to get started is included in the software, and you can find hundreds of other packs to buy to fill in the gaps and expand your horizons. From my experience, the whole package seems a lot cheaper than physically doing it yourself. And here's my favorite part: they even offer lots of
freebies
! Everything from background papers and embellishments to text and Quick Pages (that's what they call pages that are already made for you). I've downloaded a bunch of everything already. Plus, with
My Memories
, you can save whole albums, convert them to .jpg so you can share them anywhere digitally, and print your scrapbooking pages. But wait, there's more! (lol) I've heard that you can make blog headers easily, as well as holiday cards with
My Memories Suite
. In fact, I've whipped up a little holiday card of myself and Mr. Marine to show you an example:
That was created using some basic tools, quite a bit of tweaking, and general knowledge of the software. Not bad, eh?
It took a bit of getting use to the interface before I was comfortable exploring my creative side, but once I got the basics down, I really enjoyed it. So much easier than doing it in real life, if you ask me! No mess!
Let's face it, most of us are digital people, and printed photos aren't something we concern ourselves with anymore. If you've ever wanted to try
digital scrapbooking software
for yourself, or just like to get things for free (hey, I'm not judging you!) then I've got a giveaway for you! I'm giving away a copy of
MyMemories Suite Digital Scrapbooking Software v 2.0
to a very lucky reader! And since this is my first giveaway, I want it to be big and fun!
Feel free to use this button to spread the word!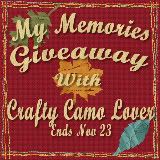 Here's how to enter:
Mandatory:
Be a follower of my blog with a Google account or Twitter and leave a link to your account and your e-mail address

Optional for extra entries:
Go to https://www.mymemories.com/, check out their selection of papers/packs, then come back here and leave a comment telling me which one(s) you liked the best

Blog about this giveaway, or mention it using the icon above and leave the link to the post.


Follow @MyMemoriesSuite on Twitter


Subscribe to My Memories blog
*Please leave one comment for each individual entry
Giveaway will end November 23 at 9pm Pacific time (12 AM for you East coasties) ;)

Also: if you've already won or have the My Memories software, you can still enter and pass the code on to someone else as a gift! (Again, so not judging you! lol)

Along with the giveaway, I got my own Share the memories code for you to use! Just in case you don't win, but still want to try out
My Memories
. (Or if you want to get some neat swag for a discount price!)
The code will provide $10 off the purchase of the
My Memories Suite Digital Scrapbook
software and a $10 coupon for the
MyMemories.com
store. (A $20 value)
I'm really excited because this is my first giveaway and I hope that it goes off without a hitch :)
It's really fun, and totally worth it if you win so please enter and pass it along! Hey, what have you got to lose?
Disclaimer: I did not receive monetary compensation for this blog post, but I did get a complimentary copy of
My Memories
software to try and review as well as one to give away to a reader. The only time I will be compensated is when someone uses the code to purchase something from My Memories because I'm spreading the world about their merchandise and company.
Thanks for stopping by!

♥